Otterly Wonderful
06/03/2013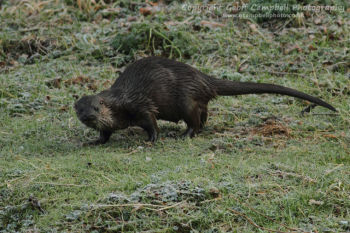 Close Encounter on the riverbank
Last week I talked of a great start to 2013, well the last week of February and the first week of March have only got better. I had mentioned that Otter was on list for this year and only days after posting the news item I was on a very public river bank with runners, dog walkers and cyclists behind whist at my feet I watched a mother and young Otter hunting fish. They were often too close for my lens so I just stood, probably open mouthed in wonder.

These opportunities to be so close to once endangered and such enigmatic wild animals are so rare that I just wanted to soak up the experience. I ended up a few minutes late for work, but just couldn't leave the river until they did.

The light was poor, I had the wrong lens but I couldn't have cared less, because the images in my head of the experience will live with me forever. I have been back to river on a couple of occasions sometimes unsuccessfully, but the local interest in the Otters and connection the public have with them is wonderful to see. Everyone has a story to tell about them, it gives you hope for the future of nature conservation.

I only hope these trusting, probably overly so, Otters remain safe from the parts of society less in touch with nature. For that reason I am not publicly disclosing the location of the site.