What A Weekend - Part 1
21/01/2011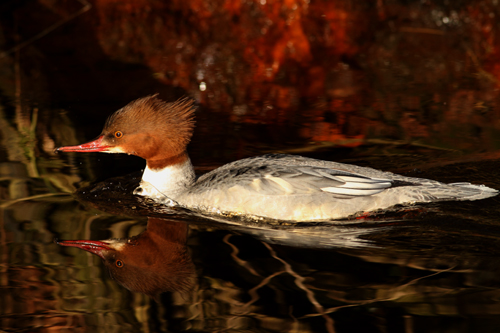 Surprise Find 1
The light was good, the weather dry, I was off work, but I had no car! Well not until lunchtime anyway, when I was due to pick it up from a pre MOT service. Fortunately it was finished and ready to collect a little early so a chance to get out with the camera for an hour or so.

I wasn't going to get far but at least I could check out a nearby river where I have had reports of otters - a species I am always keen to see and photograph. At least I could get a look at the site to see if there were any signs of life and places I may be able to set up a hide in the future.

I arrived, parked the car and started to walk upstream a little. Before I even got a chance to look for signs of Otters I noticed a large slim duck ahead of me - the low in the water outline suggested it could only be a Merganser or Goosander. I slowly made my way along the bank trying to get closer, it became clear it was a female Goosander.

A drake bird has been a regular in Ballycastle and from experience I know how flighty they can sometimes be, flying at the slightest disturbance. This was a good chance to get some decent shots of the female of the species.

Carefully I got a little closer in an area where the light was hitting the surface of the river and I waited for it to swim closer. Sure enough it swam straight past me, before turning and swimming past me again upstream. It had clearly seen me but was not concerned.

For the next 15 minutes was able to stay a few metres from it as we both went upstream. A great chance to observe and photograph this species which is still quite a rare winter visitor to Northern Ireland.

The Goosander is a member of the sawbill group of ducks. Take a look at the photograph and you may see the serrated edges of the bill used to catch fish – hence the name sawbill. A largely freshwater bird they commonly nest along wooded rivers. They first bred in Scotland in the 1870's and since then they have spread to western England and Wales. Could they be nesting in one or more of Antrim's River? I certainly looking for them again this summer.