Invasion Begins!
12/11/2010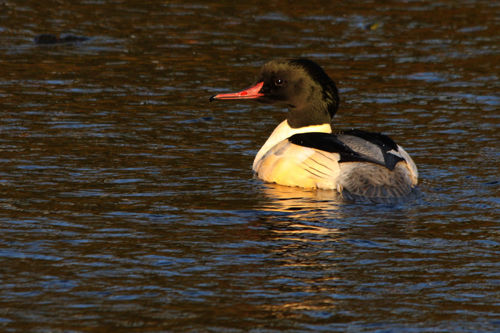 Prediction Becoming True
Last week the sighting of one or two Waxwings in Ballycastle was hoped to be the start of something bigger. By Tuesday 9th November there were 3 birds present, but by Thursday this had risen to at least 60 and possibly more.

At least that number was seen close to the bus depot behind the main street in the town with smaller numbers seen in flight earlier close to Ramoan Road. Unfortunately with the rain and strong winds photographs were not possible. Waxwings are an eruptive species, some years we see very few birds and other years large flocks appear in Northern Ireland. This may be the result of a very good breeding year for the birds or a lack of berries and other food in Scandinavia and Russia.

I did however get some nice images of a female Blackbird close to Ballycastle this week (see latest images).

Meantime the drake Goosander was showing well on Tuesday near the mouth of the river in the town. It has now regained it's breeding plumage as the photograph opposite shows. Other highlights this week included a flock of 25 Snow Bunting on top of the Garron Plateau and Whooper Swans and Geese continuing to arrive.