Rare Moth in Mayo
25/04/2018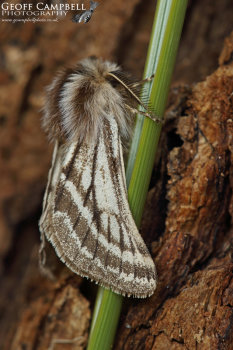 A moth with local links
Not long after becoming interested in moths four years ago one moth in particular has held a special fascination – the Belted Beauty (Lycia zonaria). Despite the name it isn't the most stunning example of our Lepidoptera and whilst very localised and scarce it isn't the rarest either. The fascination with species comes instead from it's links to my home patch.
The Belted Beauty was found over a few years in the late 19th century by a numbers of entomologists including one by the name of David Campbell (I don't believe any relation) in Ballycastle, Co. Antrim. This remains the only known location for the species in Northern Ireland. It thought the species went extinct here many decades ago, possibly with the creation of a golf course on the dunes in the 1890's and searches in area (I still look every year just in case) have failed to re-discover it. This is one of several moth species in which the female is flightless, therefore once lost, re-colonisation is highly unlikely, especially for such an isolated population.
A short family trip to County Mayo to cycle the Great Western Greenway in late April this year offered an opportunity to finally see this species. The sand dunes and associated machair on the western coast of Mayo remains the Irish stronghold for this species and despite poor weather conditions (compared to what the rest of Ireland was experiencing at the time) I was able to locate and photograph several of the attractive males.
Sadly I could not locate one of the flightless females on this trip. I checked fence post after fence post on several occasions, as this is best place to locate them. They crawl to the top releasing pheromones to attract the males. No one is sure why the females of species such as this have adapted to loss the power of flight, but it may be to save energy in these cool and windy environments. Flight muscles can take up 10-20% of an insect's body weight and flight use a great deal of energy, which instead could be used for increased egg production.
It was great to finally catch up with this species, though it is a little sad that this is another species we have lost from the local area.
I can also highly recommend Achill Island for its stunning scenery and great wildlife, including Peregrine, Chough and Irish Hares, as well as abundant Skylarks and Meadow Pipits, as reminder of how things used to be at home. The
Great Western Greenway
, much of which runs along a long disused railway line, is a fantastic resource connecting people with both the landscape and nature of the area in a safe and sustainable way, as well as apparently being good for local tourism.